Derma roller treatment can provide you many benefits in rejuvenating your skin. It strategically damages your skin stimulating collagen and elastin production. Derma roll for hair is highly effective in tackling hair loss, hair growth, and regrowth.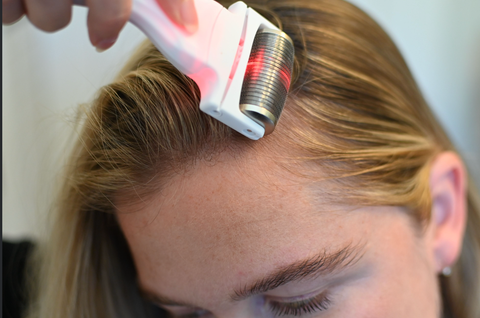 Image Source: Google
What is a Derma Roller?
The Derma Roller is nothing more than an instrument to perform a relatively new line of treatment called Collagen Induction Therapy (CIT), the tool itself looks like a medieval torture device, a small cylinder with microneedles that are developed to pierce the most superficial layer of skin.
The tool pierces your skin with tiny micro-needles which will give you a tingling sensation; it would reach deep enough to activate nerve endings sending signals to produce collagen.
Though this instrument was first used to eliminate acne scars it also treats stretch marks, cellulite, stimulates hair growth, and is used for hyperpigmentation treatments. This new layer will then thicken your skin, and remove/ diminish all the imperfections it had.
Is this safe?
It all depends on the needle size, this same treatment is performed in clinics, but they use needles above 1.5mm, which is the limit baseline for professional use.
For home usage, you can use any size you like as long as it is below or equal to 1.5mm, but try to choose the smallest possible needle (0.5 or less) for starters, and then work your way up if you feel the need to.